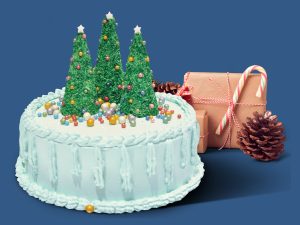 Bored of traditional Christmas pudding?
Wendy's Milk Bar has created an amazing Christmas Ice Cream Cake that you, your friends and family will all love.
Wendy's is famous for its range of stunning ice cream cakes which have been the highlight parties across the country.
"Our Christmas Ice Cream Cake is the perfect treat to cap off a Christmas lunch or dinner," said Astrid Dare, Menu Manager. "It tastes amazing, so you can expect everyone at your celebration to be very happy."
Not only does it taste great and look great, but a Wendy's Christmas Ice Cream Cake is just the thing to help keep cool on a hot Aussie Christmas day.
It also makes the whole day that much easier. Cakes can be ordered well in advance at your nearest Wendy's Milk Bar store.
"It's the perfect way to add to your Christmas celebrations, and if you are celebrating at someone else's house then a Wendy's Ice Cream Cake is a wonderful way to contribute to the day." Astrid said.
To order your delicious Wendy's Christmas Ice Cream Cake simply click here to find your nearest store.